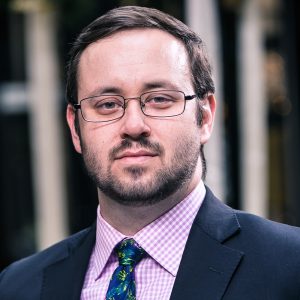 BUFFALO, N.Y. — Feb. 8, 2023 — Colligan Law LLP has promoted Erick Kraemer to the role of Special Counsel. A litigation specialist with over a decade of experience, he advises clients who are seeking to prepare for, avoid, or are actively engaged in, litigation. He manages cases from inception through a final verdict or settlement.
Mr. Kraemer has been with Colligan Law since 2018, serving as a senior associate attorney. He has appeared in numerous New York State and federal courts and before such administrative forums as the Equal Employment Opportunity Commission, New York State Division of Human Rights, and Department of Labor. He is well-versed in labor/employment law and numerous commercial litigation topics.
"An important part of Erick's practice is recognizing and discussing with clients the practical business considerations associated with litigation – the costs, benefits and detractors of engaging in litigation, relative to their case," said Colligan Law Managing Director Matthew Pelkey. "He always works to find the best outcome for them, whether that involves bringing a case to trial, an amicable solution, or a creative solution in between. It's a skill from which many of our clients have benefitted over the years."
Kraemer previously worked for several law firms in the New York City and Buffalo markets between 2012 and 2018, following his graduation from the St. John's University School of Law. He also holds a bachelor's degree in Political Science from the State University of New York at Geneseo. He is recognized by Super Lawyers as a "Rising Star" and is a Top-Rated Employment & Labor Attorney in Buffalo.
Kraemer currently resides in Snyder, N.Y., with his wife and two daughters.