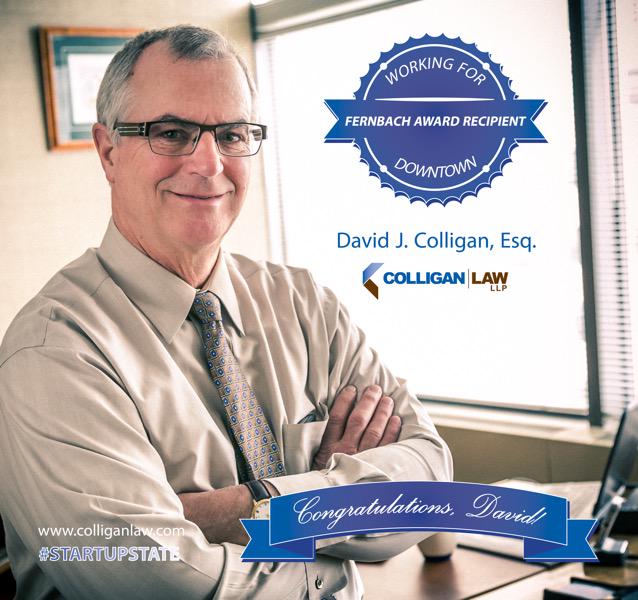 David J. Colligan received the Working For Downtown Fernbach Award during a luncheon held at the Hilton Garden Inn in downtown Buffalo.
Colligan is the longest serving board member of the Erie Canal Harbor Development Corporation (ECHDC), the state-appointed agency entrusted with developing Buffalo's downtown waterfront. He also serves on the Governor's Outer Harbor Advisory Committee, which is seeking to re-energize and beautify over two linear miles of waterfront land along Buffalo's outer harbor.
"The development of Buffalo's waterfront and the revitalization of the entire region depends on an ongoing commitment to community service by area business leaders," said David Colligan, partner at Colligan Law. "I am proud to accept this award as we continue to collaborate with local and state partners to establish our waterfront as a premier destination for visitors, tourists, and area residents alike."
In addition to his role as partner at Colligan Law, Colligan is a founding director and chairman of the board for Launch New York, as well as a board member for the WNY Venture Association, and a founding member of the Buffalo Angels. Colligan's full biography is available here.
Working For Downtown is a volunteer organization—currently in its 35th year—that focuses on the continued economic and aesthetic revitalization of downtown Buffalo. The Fernbach Award is given to organizations or individuals whose efforts have resulted in positive, visible changes to the appearance and viability of downtown Buffalo.
Colligan Law LLP is a Buffalo-based law firm with an experienced "startup" practice area that specializes in counseling emerging companies and entrepreneurs all across Upstate New York. The attorneys at Colligan Law LLP offer expertise in all phases of business formation, seed funding and venture capital, tax compliance, and turn-around company advancement.