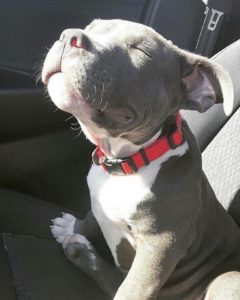 After a week in March in which United Airlines loaded three dogs onto the wrong planes and a fourth died in an overhead bin, United decided to review its PetSafe program for pets traveling in the cargo compartment. Of the nearly 507,000 animals that flew on U.S. commercial carriers in 2017, 24 died, with 18 of those deaths happening on United, according to the Department of Transportation.
Effective June 18, 2018, United will implement several new policies and customer requirements for pet air transportation. The biggest change being their prohibition for 47 different breeds of dog and 4 breeds of cats (more on that below).
United's pet traveling transportation program, named "PetSafe" in an aptly made public relations move, only accepts dogs and cats. No other household pets or animals will be accepted.
United has also stopped any Petsafe transportation until June 18, 2018. On June 18, 2018 United will resume taking reservation for pets traveling on the same flight as their owner beginning July 9, 2018. On July 16, 208 they will allow reservations for pets traveling alone beginning July 30, 2018. Owners cannot book pets on routes with more than two connections.
The bulk of the breed restrictions are for short- or snub-nosed (brachycephalic) dogs and cats and strong-jawed dog breeds, including mix breeds. The following breeds are no longer accepted for reservations:
Affenpinscher
American Bully
American Pit Bull Terrier/Pit Bull
American Staffordshire Terrier/"Amstaff"
Belgian Malinois
Boston Terrier
Boxer
Brussels Griffon
Bulldog
American Bulldog
English Bulldog
French Bulldog
Old English Bulldogges
Shorty Bulldogs
Spanish Alano/Spanish Bulldog/Alano Espanol
Cavalier King Charles Spaniel
Chow Chow
English Toy Spaniel/Prince Charles Spaniel
Japanese Chin/Japanese Spaniel
Lhasa Apso
Mastiff
American Mastiff
Boerboel/South African Mastiff
Bullmastiff
Ca de Bou/Mallorquin Mastiff
Cane Corso/Italian Mastiff
Dogo Argentino/Argentinian Mastiff
Dogue de Bordeaux/French Mastiff
English Mastiff
Fila Brasileiro/Brazilian Mastiff/Cao de Fila
Indian Mastiff/Alangu
Kangal/Turkish Kangal
Neapolitan Mastiff/Mastino Napoletano
Pakastani Mastiff/Bully Kutta
Pyrenean Mastiff
Presa Canario/Perro de Presa Canario/Dogo Canario/Canary Mastiff
Spanish Mastiff / Mastin Espanol
Tibetan Mastiff
Tosa/Tosa Ken/Tosa Inu/Japanese Mastiff/Japanese Tosa
Pekingese
Pug
Dutch Pug
Japanese Pug
Shar-Pei/Chinese Shar-Pei
Shih-Tzu
Staffordshire Bull Terrier/"Staffys"
Tibetan Spaniel
The following cat breeds are also no longer accepted for reservations:
Burmese
Exotic Shorthair
Himalayan
Persian
Additionally, United will no longer accept any reservations to and from India and Australia year round, and will no longer accept reservations to and from the following US airports annually between May 1 and Sept. 30, due to high temperature restrictions:
Las Vegas (LAS)
Palm Springs (PSP)
Phoenix (PHX)
Tucson (TUS)
Travelers may still bring small pets, including dogs and cats, into United cabins so long as they are in carriers that fit under the seat. Other airlines such as Delta and American already had restrictions on pet travel during extreme temperatures or for snub-nosed breeds. It is also important to note that United's new policy does not address service animals and emotional support animals.
United will honor PetSafe reservations confirmed as of March 20, 2018. For United's full pet policy visit their website.
Rob Townsley is an associate attorney at Colligan Law LLP, whose practice areas primarily relate to natural resources and commercial real estate law, but who has also represented pet owners in local civil and criminal matters.